Welcome To My Homepage
Knoxville Senior Co-Ed Softball, click on a site just left for another page
This is a non-competitive Senior slowpitch Softball League for women who are 55+ and men who are 60+. We currently have six teams: Young at Heart, Blue Sox, Cardinals, Greyhounds,Yellow Jackets and the Mean Greenies. For those players who cannot commit to play both days every week we have the Green Hornet Team. Because of the large number of these, when they do come to play, they may be assigned to fill one of the six regular teams up to ten. Everyone who shows up plays!!
This special program only costs $10.00 For accident insurance required by the City of Knoxville. We play on the beautiful fields at Caswell park (www.cityofknoxville.org/parks/caswell.asp) on Tuesday and Thursday mornings from 9:00 to 11:30 from April through October.
Modified Senior Softball rules are used to protect players from possible injury. There are no Balls, Strikes, Outs or Score kept. Everyone bats each inning; we usually play four innings. This is for fun and exercise. Come join us, all you need is a ball glove.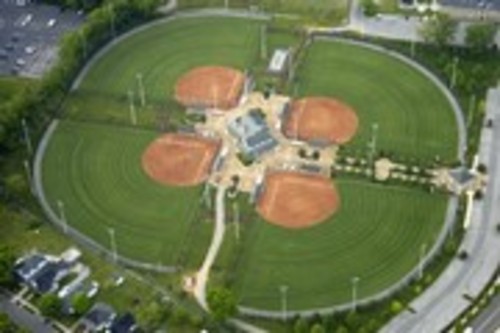 Caswell Park
Link to Channel 10 WBIR's report on June 15.
www.wbir.com/news/local/five-at-four/knoxville-senior-co-ed-softball-league-needs-more-players/245120872
Link to Channel 6's report on June 2.
wate.com/2016/06/02/senior-softball-league-looking-for-more-players/
Knox Senior Softball
Knox Senior co-ed Softball
Webmaster: John Schmidt